Happy Spring equinox y'all!!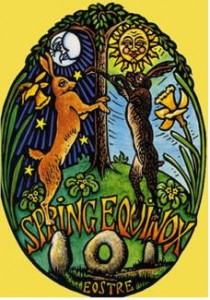 The March equinox signals the beginning of spring in the Northern Hemisphere and autumn in the Southern Hemisphere. It marks that special moment when the sun crosses the celestial equator going from south to north. In 2012, this equinox comes early. It'll be on March 20 at 5:14
UTC.
Why is the equinox early in 2012? The reason is, in part, because 2012 is a leap year. If this year weren't a leap year, this equinox would come on March 21 – not March 20 – at 5:14 Universal Time. The equinoxes for the coming three years – 2013, 2014, 2015 – will all fall on March 20 as well. But – with each passing year – each equinox will come nearly 6 hours later by the clock. In the year 2016, the equinox would fall on March 21 – if 2016 weren't a leap year.
Yesterday felt like it was spring here in chilly Canada. As soon as the sun was up I practically leaped outside with my gum boots on my feet and garden clippers in hand.
I raked and trimmed, primped and pruned, cleaned and swept my yard all afternoon in the glorious spring sunshine. Trimming all the dead winter growth away to expose the new life emerging from underneath and the DUN DUN DUN!!! It snowed again this morning.......REALLY!!
Oh well, no point putting the horse before the cart. Next thing you know I will be complaining about all the yard work I need to do and how sick and tired I am of mowing my grass.
SPRING.....you are always welcome in my backyard. (You're my
favorite
season....just don't tell the others).