I visited with a bunch of great ladies this morning at my pal Alison's house for a
mug of coffee and baileys
lovely tea.
It was so nice to come out of my cave and get out and visit over some yummy morning nibbles and great conversation. I tried out a new scone recipe as I was, as usual, not very organised and had not planned ahead my treat to share with the ladies.
This one came together very quickly and I timed it just right so that I could deliver a steaming plate full of yummy blueberry scones to the gathering. Mind you, they did make me half an hour late as I don't normally do the wedge style scone and I had to pull them out of the oven, separate them and give them a quick flash in the oven to be sure they were fully cooked through.
I had a few requests for the recipe, so here 'tis ladies, with a few alterations.
I got this recipe from a website called
Chef in you
, I'll be heading back there after I finish this post to go check out some more recipes.
Click on the pic to be directed to the recipe, I had to nab the pic from their website as I didn't take one of my own this morning.....as I was running late remember!!!!
Then scroll down to see what I did differently.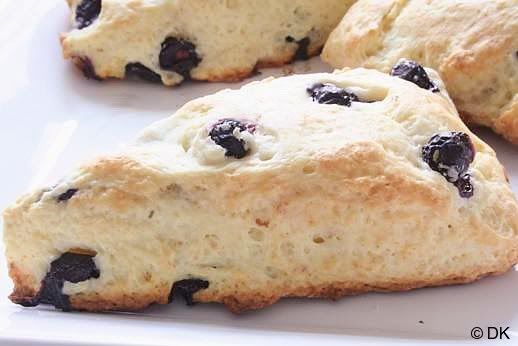 So instead of 2/3 cup of sour cream, I used 100ml of strawberry yogurt and then made up the rest with sour cream to get the correct amount.
I also used full fat sour cream. Did I tell you this is not diet friendly already?
I also upped the amount of sugar from 3 tablespoons to 6 tablespoons!!
THEN, I made a vanilla bean drizzle to go on top of the warmed scones..........drool!
5 tablespoons of icing sugar
1 teaspoon of Madagascar Vanilla
a pinch of vanilla bean seeds. ( I have something like
these
in my pantry)
add a tiny bit of milk until you get the "drizzle" consistency you like.
If you don't have the vanilla bean seeds don't worry, the recipe is just as yummy without it. They just had an extra hit of vanilla flavor and the seeds looks so great in the drizzle.
Easy!!